Winters in Ohio can be harsh on your grass, so it's important that you help your lawn emerge from winter dormancy successfully come spring. There are a few spring practices you can incorporate into your routine to help your grass emerge from winter dormancy. Cleaning up all the debris that has accumulated on the lawn is essential, as smothered grass won't grow well and can't get good access to nutrients. Applying a fertilizer treatment will help give your grass the nutrients it needs to green up faster and grow stronger. Applying a pre-emergent weed control treatment will ensure that your grass receives all the nutrients that are available to it since it won't have to compete with weeds for them. Using this three-fold approach when your grass is coming out of winter dormancy will help your lawn thrive this spring!
---
Cleaning up debris will make it easier for essential resources to reach the roots of your grass.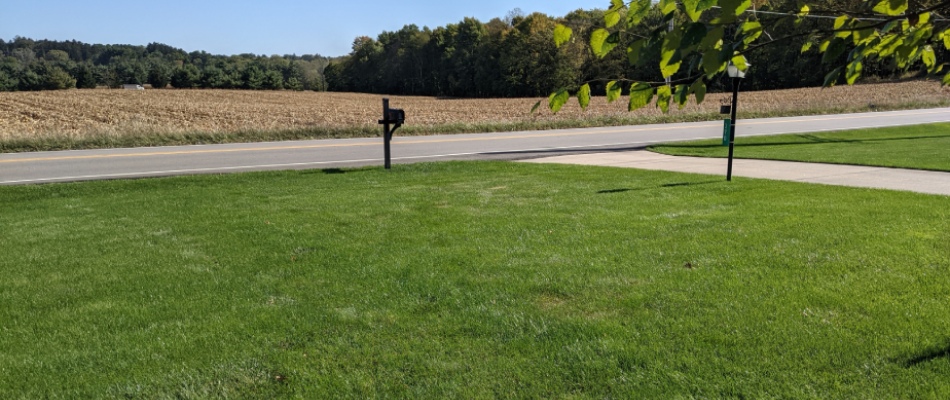 To create a fresh slate for your lawn, cleaning up debris that has accumulated throughout the season is essential. With piles of fallen leaves, twigs, and branches littering your lawn, the roots of your grass can't get good access to the resources it needs such as nutrients, water, or sunlight. These materials actively block resource access for the grass underneath, smothering the grass and preventing it from growing well. Grass that is clear of obstacles will be prepared to bounce back from winter dormancy since it will have access to the resources it needs.
---
Applying a spring fertilizer treatment will replenish your lawn with essential nutrients.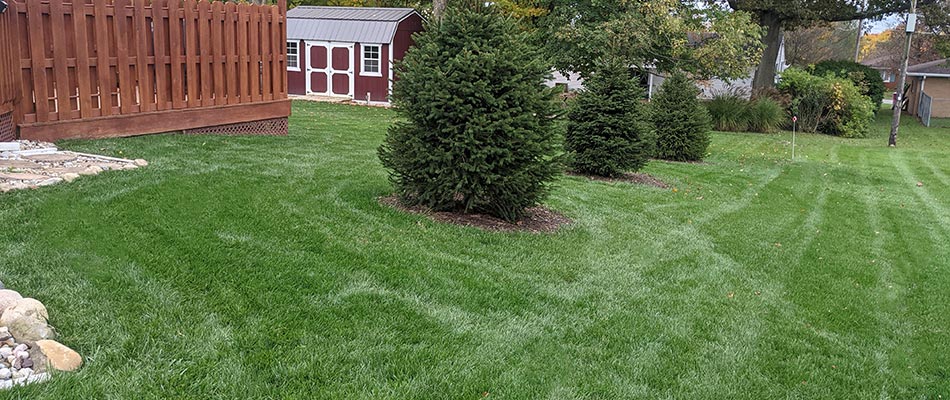 Your grass has been biding its time all winter long, using rations of stored nutrients to survive. Now that the warmer weather is here, your grass will be yearning for a boost to jumpstart the new season! Applying fertilizer in the spring is the perfect way to replenish your grass with essential nutrients after winter dormancy, and give it the energy it needs to green up faster and establish deep roots. It will also help your grass develop into the lush lawn you've always wanted, strengthening it to withstand the inevitable challenges it will face in the seasons to come.
Especially for cool-season grasses, a spring fertilizer treatment is ideal to strengthen the lawn before the impending summer heat.
---
Pre-Emergent Weed Control Treatment Prevents Weeds From Stealing Nutrients
The last thing you want when you're applying fertilizer is for all the wonderful, strengthening nutrients to be stolen by weeds lying in wait in your lawn. To prevent this atrocity, the best practice is to also apply a pre-emergent weed control treatment. Weeds will be prevented from sprouting so that all the nutrients you're pumping into your lawn are going straight to your grass. Without having to fight for resources and defend its space from weeds, your lawn will be able to further establish its root system and grow thick and healthy.
---
Ready to set your lawn up for success this spring? Call us today to schedule our services!
At Ohio Green Lawn & Pest, every decision we make rests upon three pillars: professionalism, training, and results. We set high standards for our work, and believe you deserve nothing less than perfect. Staying true to these pillars is what allows us to have such great success when it comes to caring for lawns. We offer our services to residential, commercial, and HOA properties in Mansfield, Ashland, Wooster, and nearby cities in Ohio. If you're ready to help your lawn emerge from winter dormancy successfully this spring through spring cleanups, fertilization, and weed control, we are the company to turn to. Give us a call today at (419) 528-5698 to schedule any of our services!