We offer professional lawn care services for properties in the Wooster, Ohio area.
Comprehensive lawn care is what we do best. From fertilization to tree & shrub care, we will get your lawn to its healthiest and strongest state.
Right in between Mansfield and Canton, Wooster, Ohio is a bustling city full of over 25,000 people. The College at Wooster invites many young people to our incredible city, keeping it lively and active. You can visit many different eateries, farmer's markets, and clothing stores in downtown Wooster. If you need a break from the hustle and bustle, take a trip to the Secrest Arboretum to experience nature at its finest.
Our team at Ohio Green Lawn & Pest is proud to provide lawn care services to the homes and businesses in Wooster. Fertilization, weed control, perimeter pest control, and tree & shrub care are just some of what we do to keep the lawns and landscapes in our community as green and healthy as they can be. Below, we have listed out all of the services that you can sign up for in the Wooster, Ohio area.
---
Our Core Lawn Care Services
Our 6-step fertilization program runs from early spring to late fall. Therefore, our crew makes multiple visits to your home or business to provide your lawn the nutrients it needs to not only survive but thrive year-round. Our company offers liquid fertilizer, a fast-acting treatment that penetrates your soil immediately and gives your grass faster access to nutrients.
We offer both pre and post-emergent weed control treatments for your lawn. We can protect your lawn against weeds like crabgrass, white clover, dandelions, ground ivy, and much more. Just like our fertilization program, our weed control also runs from early spring to late fall, protecting your lawn throughout the changing seasons to ensure that the only thing growing is your grass. We also offer an effective landscape bed weed control service to keep your flower beds free and clear of pesky weeds that dampen the brightness of your landscaping.
Core aeration is performed on lawns that are growing weak grass blades and are prone to soil compaction from lots of foot traffic and heavy machinery such as a lawnmower. Core aeration is the process of poking holes throughout your soil to allow more water, sunlight, and essential nutrients to reach your grass roots. This gives your lawn a significant boost and it will start to grow much stronger than before.
Overseeding is often paired with our core aeration service. We will spread extra grass seeds throughout your lawn to help fill in patchy areas. Doing this directly after aeration will offer a much better chance for those seeds to make contact with the soil via the aeration holes.
---
Disease & Insect Protection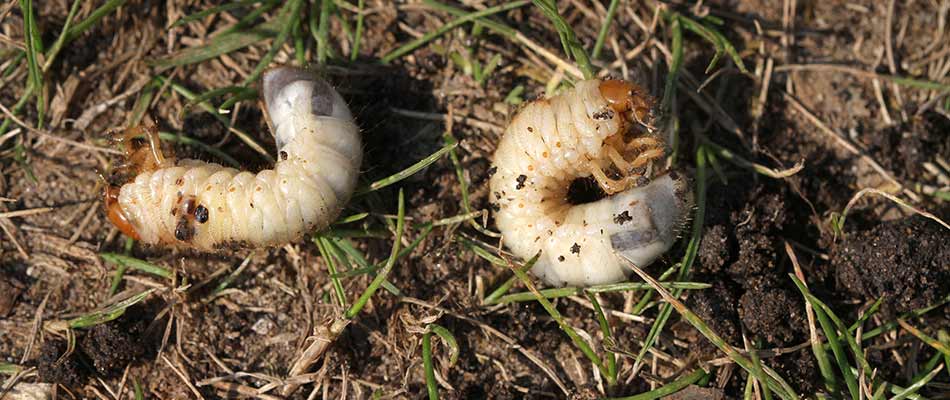 Our perimeter pest control program includes 5 different visits from our crew. This service will significantly reduce pests like spiders, ants, silverfish, earwigs, and more from making their home within your lawn. Our crew will spray the treatment 2 feet up onto your house and 3 feet out onto the lawn, all the way around your home. This creates a thick barrier that pests don't dare cross.
Grubs are a common problem in the Wooster area. Therefore, we offer an individual grub control program to combat this issue for our customers. A preventative treatment is the best way to protect against grub damage, which can include spongey turf and dead patches of grass that roll up like a carpet. Grubs are most prominent in August, so our team will apply our preventative treatment in July to ensure that they stay away from your lawn.
Your pets are most likely protected from fleas and ticks, meaning you are safe from these insects coming into your home via their fur and skin. But, what about your family members? Fleas and ticks love to attach themselves to humans and their clothing, so it is best to be safe and protect yourself and your family with our flea and tick program. Our crew will visit your home every 4 to 5 weeks, starting in April and ending in October. We will spray a liquid application to ensure that fleas and ticks do not settle into your property.
In the Wooster, Ohio area, there are a couple of lawn diseases that we see frequently. Brown Patch, Dollar Spot, Rust, and Gray Leaf Spot are a few. If you start to see damage such as a bunch of brown, yellow, or red spots, it is likely that your lawn is trying to fight disease. Hire our experts to identify and offer lawn care solutions to nurse your lawn back to health.
---
Your trees and shrubs need some TLC, too!
A large focus of lawn care is, well, caring about your lawn! However, at Ohio Green Lawn & Pest, we focus on your trees and shrubs too. Our team is licensed and trained to offer an all-in-one tree & shrub fertilization, disease control, and insect control program. This program includes 5 separate treatments to keep your larger vegetation full of nutrients and protected against disease and insects. Some common tree and shrub insects that we see in the Wooster area include emerald ash borer, bagworms, and spider mites. Common tree and shrub diseases include needle cast, powdery mildew, and apple scab.
---
Call us today to schedule your lawn care service.
We take great pride in caring for the lawns here in the Wooster area. Our services also reach surrounding areas including Mansfield, Galion, and Bellville, OH. If your property is in need of one or more of the above services, we would love to help. Call our office today at (419) 528-5698 to learn more about how our team can offer you expert and reliable treatment.