Aeration in Mansfield, Ashland and surrounding Ohio areas improves the health of your lawn by allowing vital nutrients to reach the root system.
Mowing, watering, and fertilizing aren't enough. You need core aeration this breaks up the soil allowing water, oxygen, and nutrients to reach your lawn's root system.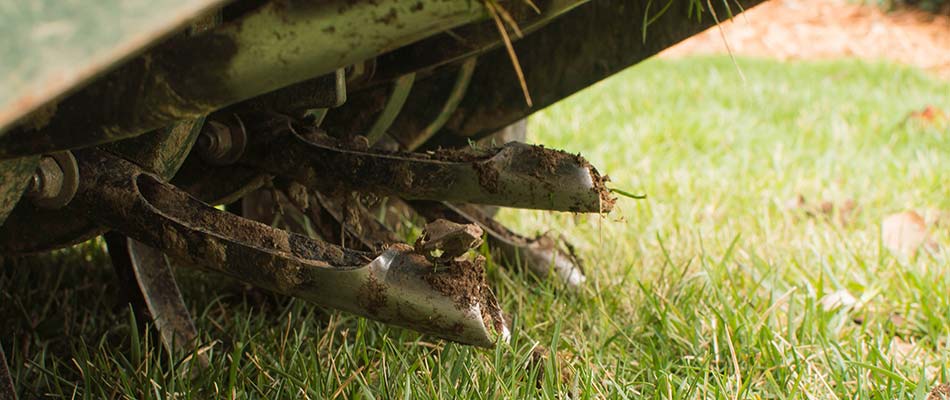 Everyone says they want a nice lawn, but do they really know what it takes to have one? Mowing and fertilization aren't the only lawn care and maintenance services you need.
Core aeration is a primary service that should always be done once a year. It increases the amount of oxygen, water, and nutrients that reach the lawn's root system and limits the amount of thatch that accumulates under the soil.
Our core aeration services will boost your lawn's health and appearance within a matter of weeks. We provide our lawn care services to properties located in Mansfield, Ashland, Wooster, and surrounding Ohio areas.
---
What's our core aeration process like for your lawn?
Core aeration involves taking a machine with sharp spikes and making small punctures across your lawn. The aerator will remove small plugs, or cores, of dirt from the ground that can be left behind. These cores eventually break apart, either over time or with a lawn mower, and are absorbed back into the soil.
---
How does core aeration help nurture the health of your lawn?
Aerating your lawn helps loosen compacted soil and minimize thatch buildup. Both problems impact grass health and will restrict nutrients, oxygen, and water from reaching the lawn's root system. Properties that see a lot of foot traffic can lead to soil compaction, especially in clay soils. Poor drainage is one sign of soil compaction because the water can't be absorbed.
A normal layer of thatch is healthy for lawns, but anything over 1/2 inch thick is unfavorable. This excessive buildup makes it harder for grass roots to establish into the ground, which reduces your lawn's tolerance to:
Diseases
Pests and insects
Drought, cold, and heat stress
---
When should your lawn be aerated during the year?
Aerating your lawn in the fall is more effective than doing it in the spring. Fall aeration prepares your lawn for the winter stress and allows for new growth to establish before the ground freezes. It also helps heal the grass from the summer heat by increasing soil's water and nutrient uptake.
---
How can performing overseeding and aeration in the fall protect your lawn during the winter?
Having both services performed together in the fall is the most beneficial for your lawn. Winters in Ohio are brutal on a lawn's health, so it's important to prep the ground ahead of time. If your soil is too compacted or the grass is suffering from heat stress, it will only add to the damage caused by the freezing temperatures.
Aerating your lawn before an overseeding service makes it easier for the seeds to be exposed to the soil. This allows the new grass seeds to germinate faster and receive the nutrients and water they need. In a few weeks, you'll have a lawn full of new, thick growth that's well-prepared to handle the upcoming winter season.
Aerating and overseeding in the fall will also help your grass green up faster in the spring as it comes out of winter dormancy!
---
Stay on top of your lawn's health and appearance by scheduling a yearly core aeration service with our team!
There's no time like the present to improve the look of your lawn. Combining our core aeration service with overseeding will ensure your lawn is strong and healthy enough to withstand even the coldest temperatures. Give us a call at (419) 528-5698 to get your property in Mansfield, Ashland, Wooster, and nearby Ohio areas on our core aeration schedule!