Professional weed control services for properties in Mansfield, and surrounding cities in Ohio.
Our pre-emergent and post-emergent treatments make sure the only thing growing in your lawn is grass!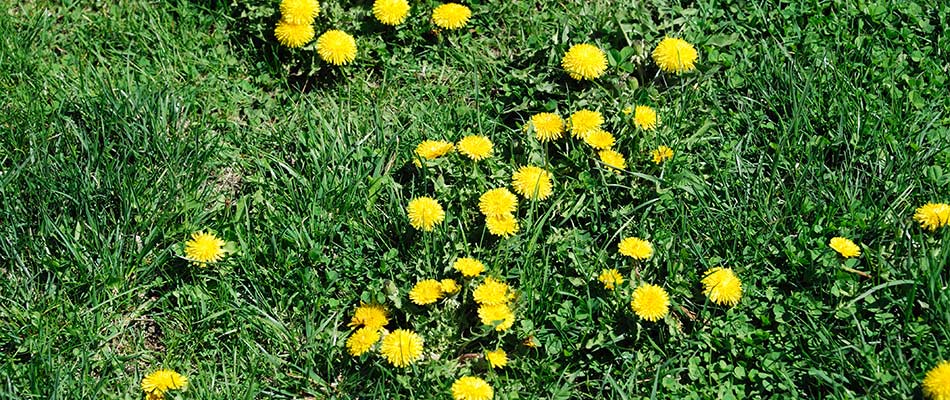 Intrusive weeds have no place on a lawn, especially since they don't offer anything of value. In fact, the weeds are stealing the nutrients that your grass needs. Weeds can also produce hundreds, sometimes thousands of seeds, which is why they need to be dealt with fast.
We'll treat weed growth in your yard with our unique combination of pre emergent and post emergent products. So, our team won't stop until the last stray weed has been eliminated, no matter how many applications it takes! You can rest assured that your property in Mansfield, Ashland, Wooster or nearby Ohio areas is in good hands.
---
What type of weeds can be treated for with our lawn care program?
Ohio has so many common weeds that it can be hard to discern which is which. This can also make it hard to know the best way to get rid of them.
Thankfully, our pre-emergent and post-emergent products can help treat any weed growth you see in your yard. These are only a handful of the weeds that we can treat for with our weed control services:
Crabgrass
Ground Ivy
Speedwell
White Clover
Thistle
Nutsedge
Dandelions
Wild Violets
And plenty more
Certain grassy weeds and sedges may require a more specialized treatment plan in order to completely eliminate them from your lawn.
---
What's the main difference between pre-emergents and post-emergents?
Eradicating weeds takes persistence, patience, and more importantly, the right products. Pre-emergents and post-emergents get the job done and will continue keeping weeds at bay the longer you use them. So what's the difference between them?
Pre-Emergents
Pre-emergents work as a proactive measure to kill weeds BEFORE they have a chance to grow. These products disturb the germination process so the seeds can't establish in the soil. Applying pre-emergent throughout your entire yard will protect any potential spots that weeds could appear for up to 8 weeks or longer.
Post-Emergents
Post-emergents are used on any existing weed growth. Unlike pre-emergents, post-emergents can be used as spot treatments and don't need to be sprayed across your whole lawn.
Timing definitely matters when applying post-emergent products. They're super effective against new weed growth. However, more mature weeds will require multiple applications. The number of post-emergent treatments your lawn may need and the period of treatment time depends on the weed species we're dealing with. Some broadleaf and grassy weeds have such fibrous root systems that it takes more than one application to fully eradicate them.
---
When do we treat for weeds in Mansfield and local Ohio area?
Unfortunately, weeds don't take a holiday. Weeds grow much faster than grass and can appear on your lawn any time of the year. To ensure our weed control services are as effective as possible, we apply pre-emergent and post-emergent products from early spring and continue into the fall before lawns go dormant in the winter.
Our pre and post emergents pack a powerful punch against weeds. You'll start noticing visible results within 48 hours of the application. This doesn't mean all the weed growth is permanently gone, but a majority of it will begin to die off.
---
Get a handle on stubborn weeds by letting our team treat your property with pre-emergent and post-emergent products!
Our pre-emergent and post-emergent products will make pesky weeds feel unwelcomed on your property. Also, we eliminate weeds at the source and keep them away with regular applications throughout the year.
Our services are available for residential and commercial properties in Mansfield, Ashland, and surrounding cities in Ohio. Get on our weed control schedule today by calling (419) 528-5698!