Are you thinking about filling in those stubborn patchy areas on your lawn with new grass seeds? Before you schedule an overseeding service, you should know that core aerating your lawn before you overseed is crucial to ensure the best results for those new seeds.
Overseeding on its own is a risk. If you happen to have compacted soil after summer due to heavy rain and foot traffic, those new seeds don't have anywhere to go and the chances of successful germination will be slim. To prevent this, you will need to schedule core aeration before your overseeding service. Core aeration is the process of pulling small cores of soil from your lawn. This loosens compacted soil and the new seeds will be able to gain great seed-to-soil contact through the new holes in your soil. With core aeration setting your new seeds up for successful germination, you can rest easy knowing that your patchy lawn will be full of thick, lush grass in no time.
---
The Risks of Overseeding a Compacted Lawn
Soil compaction happens to every lawn. There are many factors that cause it, including heavy rain, heavy foot traffic, traveling over your grass weekly with a heavy lawnmower, and more. Because these factors occur often during the summer season, there is a large chance that your soil is pretty compacted come fall time.
Overseeding a compacted lawn can quickly turn into a waste of time and money. If the soil compaction doesn't allow the seeds to gain good seed-to-soil contact, chances are, they will struggle to germinate. To obtain the best results from your overseeding service, it is crucial to ensure that your soil is not compacted. That is where core aeration comes in!
---
What is core aeration?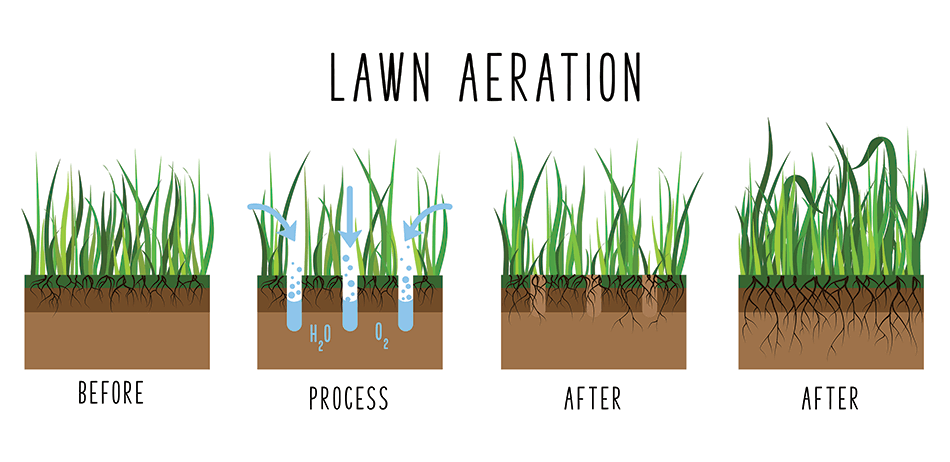 Core aeration is the process of pulling "cores" of soil from your lawn. A lawn care professional will travel over your yard with a machine that is called a core aerator. This machine will pull out 2-3-inch plugs of soil as it passes through, thus significantly reducing the compaction throughout your lawn.
The purpose of this service is to loosen any tight compaction that may be forming underneath your grass. Core aeration is so important because it opens up your soil and gives essential nutrients, sunlight, and water much better access to your root system. Therefore, your grass grows significantly stronger.
---
Core aeration should always be performed before overseeding.
After core aeration, there will be many, small holes throughout your lawn. These conditions are perfect for overseeding. Overseeding directly after your lawn has been aerated allows the new seeds to fall and settle into the holes in your soil. Rather than being forced to sit on top because of soil compaction, those new seeds now have incredible seed-to-soil contact and will have a much greater chance of successfully germinating. This allows you to get more for your money when scheduling an overseeding service!
To further encourage the successful germination of your new seeds, it is important to follow a strict watering schedule directly after your lawn has been overseeded.
---
Call our pros today to schedule our core aeration and overseeding services!
You and many other property owners all want the same thing: healthy, lush, green grass. Core aeration and overseeding can give you that! At Ohio Green Lawn & Pest, our pros continuously deliver outstanding results with our core aeration and overseeding services. We offer these services in the fall because cool-season grass types are at their strongest during this time and it will prepare your lawn for the winter season. Our services are available to properties in Mansfield, Ashland, Wooster, OH and nearby areas. Call (419) 528-5698 today to schedule!